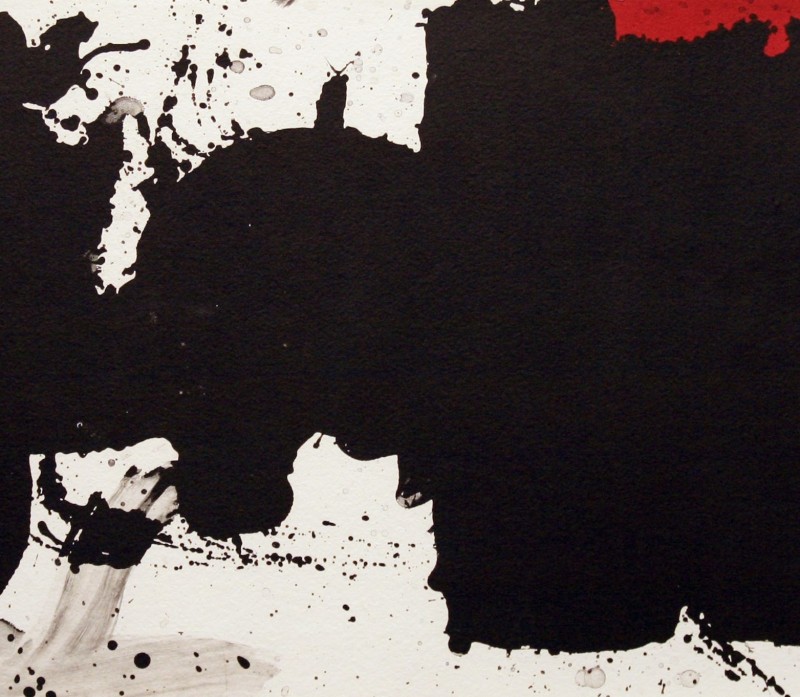 Robert Motherwell (1915-1991)
Robert Motherwell was born in Aberdeen, Washington in 1915. He was raised on the Pacific Coast, graduating from Stanford University in 1937. Motherwell did graduate work in philosophy at Harvard University and, in 1940, studied briefly at Columbia University, where Meyer Schapiro encouraged him to pursue painting rather than scholarship. A1941 voyage to Mexico with the Surrealist painter Matta inspired Motherwell to make painting his primary vocation. It was at this time that he began his "automatic" drawings, painting his first mature pictures.
Motherwell soon began exhibiting in New York and, in 1944, had his first one-man show at Peggy Guggenheim's "Art of This Century" gallery. In the mid-1940s, he became the leading spokesman for avant-garde art in America, lecturing widely on abstract painting and founding the Documents of Modern Art series. In 1948, he began to work with his celebrated Elegy to the Spanish Republic theme, which he continued to develop throughout his life.
In 1958–59, Motherwell was included in "The New American Painting" exhibition, initiated by the Museum of Modern Art, which was shown in numerous European cities. That year he traveled in Spain and France, where he started his Iberia series. In 1965, was given a major retrospective exhibition at the Museum of Modern Art. In 1967, Motherwell began to work on his Open series.
During the 1970s, Motherwell had important retrospective exhibitions throughout European cities, including Düsseldorf, Stockholm, Vienna, Paris, Edinburgh, and London. In 1977, he was given a mural commission for the new wing of the National Gallery of Art, Washington, D.C.
In 1983, a major retrospective exhibition of Motherwell's work was mounted at the Albright-Knox Art Gallery in Buffalo, New York, traveling to Los Angeles, San Francisco, Seattle, Washington, D.C., and New York City. Another retrospective was shown in Mexico City in 1991.
Robert Motherwell died in Provincetown, Massachusetts on July 16, 1991. His work is on display in museums throughout the world.